Why choose Cross Keys for your business?
Cross Keys is a Grade II listed property occupying a prominent central city trading position, highly visible and directly opposite Guildhall Square – a short walk from Salisbury Cathedral.
Cross Keys Shopping Centre has a large 600 sq ft area which is available for use by commercial bookings.
To view our commercialisation brochure click here
To make a commercial booking please click below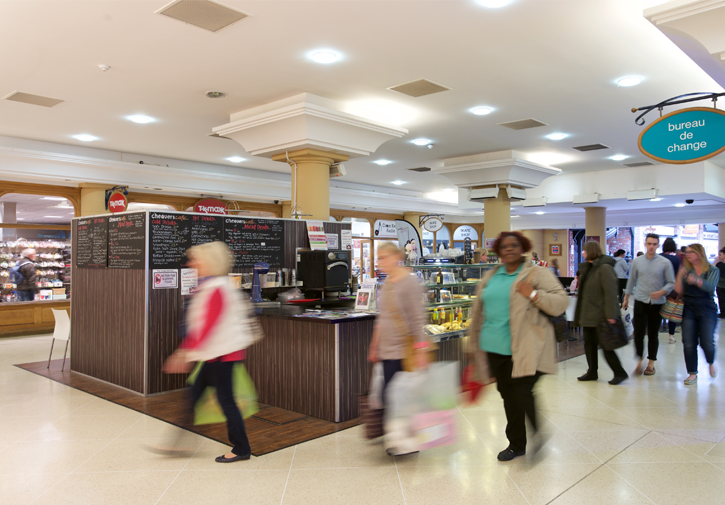 Cross Keys Shopping Centre was established more than 25 years ago and is the only covered shopping mall in Salisbury, which includes a wonderful selection of boutique independent shops, restaurants and national brands.
Central Salisbury location, on the Guildhall Square, benefitting from weekly markets and additional Christmas fayre footfall
Home to well known brand names such as TKMaxx, Ryman, Subway and Wildwood
Iconic features such as an original Grade II Jacobean staircase, attracting visitors in it's own right
High visibility to tourists and local shoppers
Actively promoted as a shopping destination
Security monitoring, 7 days a week
Vacant Unit Details
Details listed below:
Suite 2 2nd Floor North – Sq. ft = 1,209 / Rent = £14,250 / Service Charge = £8,715
Room 5 2nd Floor North One – Sq. ft = 290 / Rent = £4,300 / Service Charge = £2,090
Unit 7/8 – Sq. ft = 2,517 / Rent = £49,500 pa / Service Charge = £10,429
Unit 10 – Sq. ft = 547 / Rent = £12,000 pa / Service Charge = £2,674
Unit 16 – Sq. ft = 1,517 / Rent = £15,000 pa / Service Charge = £6,286
Unit 21 – Sq. ft = 1,016 / Rent = £14,000 pa / Service Charge = £5,298
The offices above the shopping centre attract entrepreneurial businesses and offer the following fantastic benefits:
Central office space located in the centre of Salisbury, close to all amenities.
Onsite car parking available.
High quality serviced offices.
Flexible terms.
Spacious accommodation which can be configured to suit tenants' needs.

 
Regus Offices
Positioned just 12 minutes from Salisbury train station, this distinguished-looking business centre is perfect for any business looking for an accessible central location. The smart, tasteful office space and meeting rooms overlook Market Square and are available on flexible terms, as well as being fully serviced. Regus Salisbury offers a prominent, accessible location, a range of office space, easy to book meeting rooms, business quality reliable Wi-Fi, and a welcoming reception along with admin support.
Get in Touch
If you have a general enquiry, some feedback or even a complaint, we'd love to hear from you. Get in touch by phone, email or via the contact form below.