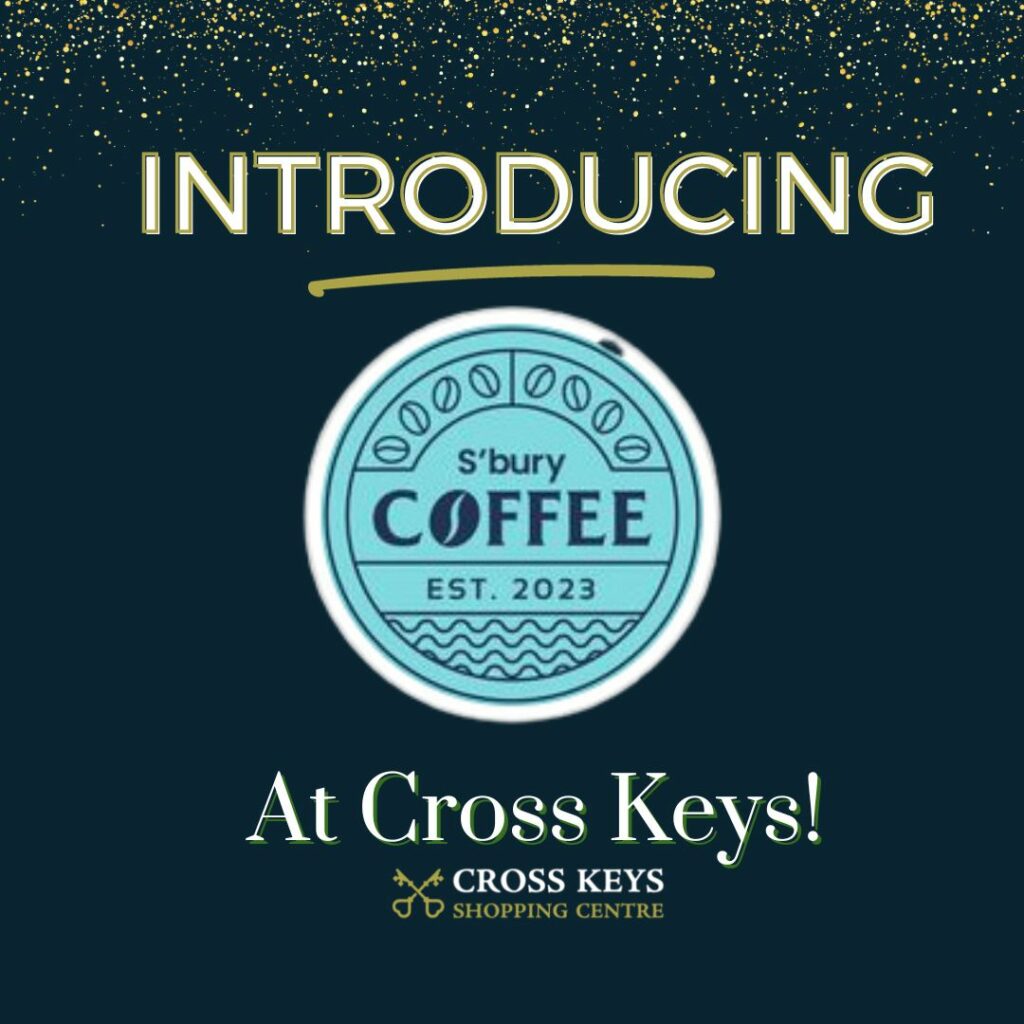 We are delighted to announce the arrival of a wonderful new addition to Cross Keys Shopping Centre – S'bury Coffee! It's time to sip, savour, and celebrate the love for coffee and the passion for creating exceptional brews. 
Nestled within the heart of Salisbury, S'bury Coffee's flagship coffee shop brings an extra shot of something special to this already vibrant city. We extend our warmest welcome to them into our bustling centre. 
The Story of S'bury.
In the midst of unexpected circumstances, the first franchise, B'mth Coffee embarked on its journey, launching just a week before the world was plunged into the COVID lockdown. However, where there's a will (and a love for coffee), there's a way! The founder of  S'bury Coffee is driven by a deep-rooted passion for crafting coffee, which paved the way for the success of their Bournemouth-based units and this exciting new venture!
Eco-friendly Artisan Excellence.
What sets S'bury Coffee apart from the rest? It's their commitment to delivering an eco-conscious coffee experience without compromising on taste.  S'bury Coffee's artisan, barista eco coffee not only tantalises your taste buds but also leaves a smaller environmental footprint. Sustainability is not just a buzzword for them; it's a way of life. 
But it's not just about coffee.  S'bury Coffee's homemade paninis and freshly baked pastries will perfectly complement your coffee experience, whether you're in need of a quick fix or a moment of indulgence. 
Why not try…
"The Morning Kickstarter" – Strong Silky Caramel Flat White. Looking for that extra kick to jumpstart your day? Look no further than their best-selling creation, the Strong Silky Caramel Flat White. Affectionately dubbed "The Morning Kickstarter", it promises to give you the caffeine boost you need in the morning. The rich, silky texture combined with the perfect balance of strength and caramel flavour makes it the go-to choice for those who like to start their day with a bang.
Beyond the Coffee – A Place to Gather.
S'bury Coffee is more than just a coffee shop; it's a haven where people can gather, connect, and relax. It's a place where conversations flow as smoothly as their coffee, where friends can meet and memories are made. Escape from the hustle and bustle of daily life and immerse yourself in the soothing aroma of freshly brewed coffee.
Come in and meet the friendly team at the flagship store inside Cross Keys shopping centre. S'bury Coffee brew more than coffee; they brew memories. 
Come sip, savour, and celebrate with the S'bury Coffee team.