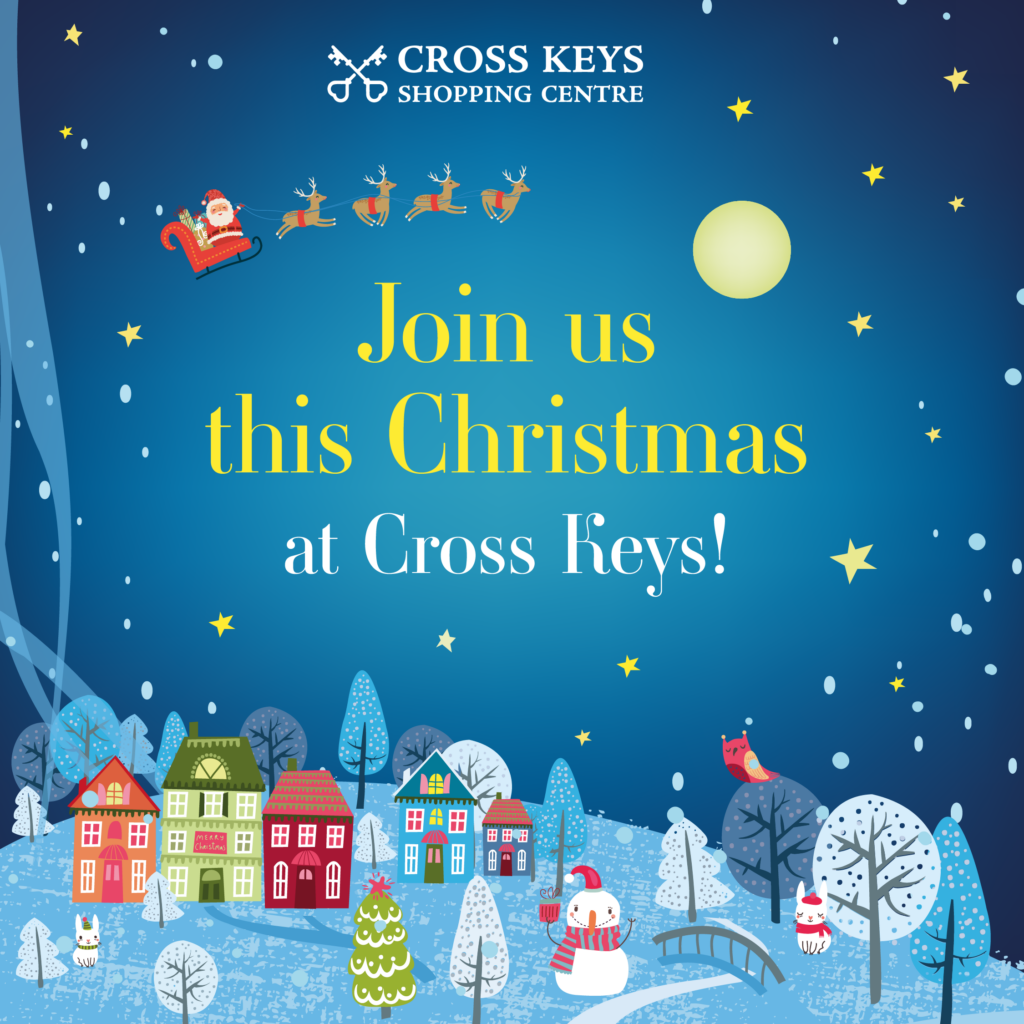 Join us at Cross Keys this Christmas.
We are excited to bring two very special events to our shopping centre in the lead up to Christmas alongside an online digital competition so that we can give back to you during this festive time!
On Sunday 10th of December, between 11am until 3pm we will be hosting a Christmas tree star decoration workshop where you can come along and create your own decorations to hang on your Christmas tree.
The second workshop will take place on Sunday 17th of December again from 11am until 3pm. You can come along and design a star photo frame, a perfect present to gift your loved ones this festive season!
The fun doesn't stop there. We will also be hosting carol singing in the run up to Christmas to provide your Christmas shopping with an extra bit of sparkle! And we will be hosting an online competition, where one lucky shopper could be in with a chance of winning a £50 gift voucher for Wildwood and a £50 gift voucher for Live Escapes. All you have to do to enter is keep an eye out on the Cross Keys Facebook and Instagram pages and follow the instructions on the designated competition posts for your chance to win!
(T&C's apply.)
Christmas Event T&C's
Children aged 16 and under must be accompanied by an adult over 18
This event is free to attend.
Cross Keys Shopping Centre reserves the right to refuse entry.
Cross Keys Shopping Centre at its absolute discretion reserves the right at any time to cancel or amend events, activities, workshops, alter times, prices and services without notice.
If the event is cancelled in its entirety, Cross Keys Shopping Centre will use our reasonable endeavours to notify you as soon as reasonably possible.
Dogs and all other pets are not permitted within the Cross Keys Shopping Centre or any events. This is with the exception of Assistant Dogs and some restrictions do apply.
Admission to any event, activity or workshop is at your own risk. Cross Keys Shopping Centre will not be held liable for any loss, injuries or damages or emotional distress sustained at or during or following the event, activity or workshop including damage, theft or losses to property and motor vehicles.
Please note that CCTV, film cameras and photographers may be present. By entering Cross Keys Shopping Centre, you consent to filming stills photography and sound recording and its use in distribution (commercial or otherwise) without any payment.
If you experience any problems during the event, activity or workshop, please contact a member of Cross Keys Shopping Centre staff, as it may not be possible to resolve issues after the event, activity or workshop.
Christmas Competition T&C's
The Cross Keys Christmas competition will be open for entries from 11am on 1st December until 11am on 15th December 2023.
To enter the competition the entrant must like the designated competition post on Facebook or Instagram, follow Cross Keys on Facebook or Instagram and comment on the post with their favourite Christmas food and tag a friend to join in the fun.
The photos shared will be uploaded on the Cross Keys social media pages and website for everyone to see!
All entries will be put in a generator with one entry selected at random who will win a £50 gift voucher to Wildwood and a £50 gift voucher to Live Escapes.
There is no cash alternative available.
The vouchers will then be sent via email or post depending on the store(s) selected.
The prize is non-transferable and cannot be exchanged.
The winner will be notified via the social media account they used to enter the competition.
By entering the promotion you accept these terms and conditions, and agree to participate in any publicity associated with this promotion.
If the entrants fail to agree to these terms and conditions they will be automatically excluded from the promotion.
The promoter and partners have arranged this competition in good faith and cannot accept liability in any matter relating to the competition whatsoever.
The entrant's personal information (photo) will be used only on the website and social media of the Cross Keys shopping centre and will not be passed on to any third parties other than where legally or contractually obliged.
Employees of Cross Keys and their relatives can enter this competition.
The Promoter reserves the right to cancel the competition at any stage. These terms and conditions are governed by English law and subject to the exclusive jurisdiction of the English Courts.